The gallery was founded in 1991. Here you can buy paintings, graphics, sculpture, applied art works by Moscow leading artists, antiques. All works of the collection reflect various tendencies in art: realism, social realism, surrealism, abstractionism, avant-gardism. By your order the gallery will organize an exhibition or select a collection of works, corresponding to a given theme or style. The gallery guarantees registration of licences at the purchased works of art for removal abroad.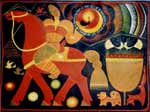 The Gallery ęMurtuzĽ was founded in 1991. The first exhibition was opened on the 30th of April, 1992. The galleryís founder, Murtuz Magomedov, was born in 1941. He is a member of the Moscow Artistsí Union since 1966 and Peopleís artist of Dagestan. Besides his 16 personal exhibitions in our country and abroad, the artistís works were displayed at many international, foreign, All-Union, All-Russian, and Moscow exhibitions. The artistís works are included in the museumsí collections, picture-galleries, and private galleries in our country and abroad.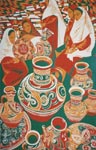 The friends and colleagues of the Galleryís founder make the essential part of the artists presented in the Gallery. They have won fame during the period of socialism. Their works are displayed in the greatest museums and cultural centers. They are included in the prestigious collections of the USA, Great Britain, France, Russia, Canada, Germany, Japan, and other countries.
In the Gallery you can buy and order paintings, sculptures, all kinds of the graphic arts: water-colors, pastels, etchings, author-lithographs, book-plates; works of applied arts: Kubatchi and Balhar, master-pieces of Kuznetsov factoryís artists and Palekh, ceramics of Skopin, the works of the unzukulsky artists of Dagestan, all kinds of Russian folk-crafts, and also antiques.
The works included in our collection present different trends of art: realism, socialist realism, surrealism, abstractionism, advance-guard.
Any kind of payment is acceptable. Barter is possible.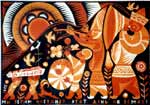 The Gallery has the possibility to invite persons interested in visiting creative centers of Russia or in private visits to our country. We can organize creative trips of Russian artists abroad. In accordance with your order the Gallery will prepare an exhibition or compose a collection of works reflecting the given theme and style. The Gallery guarantees authorizations to export the works bought.
The Gallery invites free-lance managers. We give them in cash 12% or more (according to a contract) of the sale account.
Regular or wholesale customers purchase our works at reduced prices. Prices are agreed according to artistsí rating.
The Gallery is willing to consider your suggestions on the mutually beneficial terms.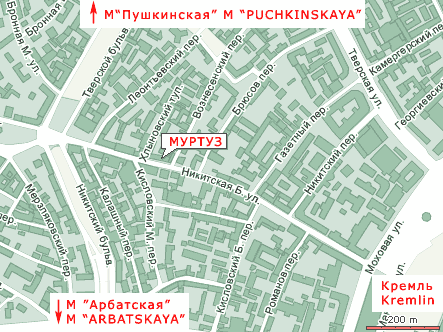 Address: Bol. Nikitskaya ul., 22, 2nd floor
Nearest metro station
Arbatskaya (A-P Line), Biblioteka Lenina, Borovitskaya
Chekhovskaya, Tverskaya, Pushkinskaya, Arbatskaya (Fil. Line)

Phone: +7 (495) 690-31-39
Fax: +7 (495) 690-31-39

E-mail: murtuz@list.ru
www: www.murtuz.ru